It seems with more and more cruise lines "all inclusive" isn't exactly what it use to be. I don't know about you but when I hear the term all inclusive I expect…well… everything.
What "all inclusive cruise" means to the majority of cruise lines
Most cruise lines should change their terminology to say mostly inclusive because they do provide most everything with the cost of your cruise and to be fair that price is probably one of the best vacation deals around. You are provided a room, entertainment and food 24 hrs a day. You can sometimes take a cruise for less than you could get a nice hotel for 7 days.
It's the fact that alcohol is not included is what confuses most people about the all inclusive term. However we have to remember that part of what keeps cruise prices down is how much they are able to make on the non-inclusive items such as alcohol, specialty restaurants and shore excursions.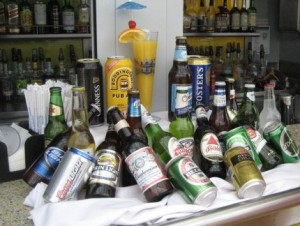 I don't get as upset about the alcohol side of things but I do get discouraged with the trend to charge extra for fine dining. There was a time when all dining was fine dining and it was included. I shouldn't have to pay an extra $25 to get a good steak.
Regent Seven Seas
If you really want to be pampered and enjoy an all inclusive cruise experience then you should check out one of the luxury lines such as Regent Seven Seas. With Regent, all inclusive means not only top shelf alcohol but flights and shore excursions too. Cruises start around $4,000 per person but once you add it all up you may find you aren't spending too much extra for a world class cruise experience.
Other All Inclusive Lines
Starting in 2012 Crystal Cruises will also become all inclusive. Currently Crystal cruises offers large stateroom credits that cover all of your on-board spending. I've seen these credits as high as $1,000. Free air is also currently common with Crystal.
Silversea is another luxury line to check out if your are looking for a more inclusive cruise. Silverseas also offers fully inclusive cruises and those with large stateroom credits as well as free airfare.
Book in Groups to Get Alcohol Included on Carnival
Carnival doesn't talk a lot about its all you can drink alcohol card but it seems that if you book in groups of over 30 and everyone agrees to purchase the card they will sell you one for $45 per day (at least that use to be the rate). That's over $300 for a seven day cruise but if you are a big drinker then it might be worth it.