Tampa isn't necessarily the first place that comes to mind when you think of cruising out of Florida – but it should be. Top tier ships, scenic ports, plenty of activities and lower cruise prices are just some of the reasons you should give cruising out of Tampa a try.
Top Tier Ships
While other non-traditional cruise ports such as Jacksonville and Charleston deal mostly with older ships from Royal Caribbean and Carnival, Tampa offers a good variety of larger ships such as the Carnival Legend and the Royal Caribbean Jewel. Tampa will also have sailings from Norwegian and Holland America (a favorite cruise line for seniors).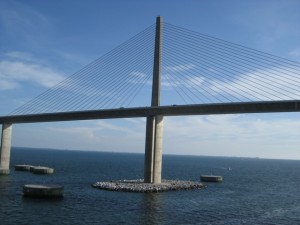 Scenic Port
Cruising out of Tampa allows a unique experience as it takes almost an hour to get out of the bay and all ships must pass under the Skyway Bridge to make it out to sea. Its pretty neat sailing under a bridge in a ship that big.
Plenty of Activities
I've never been bored in Tampa – In fact it has become one of my favorite cites. From eating dinner at Bern's Steakhouse to catching a sporting event we always have a great time before our ship sails.
For you sports fans – Here's a list of Tampa area sports teams
Tampa Bay Buccaneers
Tampa Bay Lightning
Tampa Bay Rays
South Florida
Clearwater Threshers
Tampa Yankees
Dunedin Bluejays
Lower Prices
It has been my experience that you can cruise cheaper out of Tampa than other ports in Florida. Considering some of the ships as well as itineraries are identical to the other ports this may be the best reason of all to cruise out of Tampa.