There is no need to plan a special Caribbean snorkeling vacation to just one resort. Some of the best snorkeling in the Caribbean if not the world can be experienced on a cruise to the Caribbean and cruising gives you the chance to visit multiple stops on just one trip. Whether you are snorkeling the waters of Cozumel or swimming with stingrays in Grand Cayman, you are sure to have a great time when you choose a snorkel excursion. The following are my top 5 snorkel spots in the Caribbean.
<note: Cozumel snorkeling has long been considered some of the best in the Caribbean but it has taken a beating from several hurricanes over the past several years and just misses our list. The good news is the reefs are recovering and it is still an excellent place to snorkel.>
5. Stingray City
The Stingray City excursion in Grand Cayman may not be your typical snorkel excursion in that you are standing on a natural sandbar and you may never even put the snorkel in your mouth but because it is one of the best experiences in the Caribbean and you are at least given a mask and snorkel it deserves a spot on our list. At Stingray City you will find yourself surrounded by hundreds of stingrays willing to eat out of your hand and even give you a back rub with a little help from the local deck hands. Don't let fear of barbs keep you from this once in a lifetime experience. These gentle rays have been taking hand outs for over twenty years and seem to follow the ol' don't bite the hand that feeds you motto.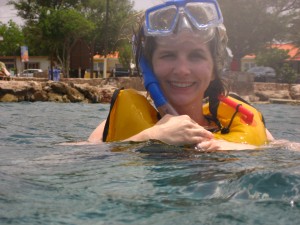 4. Roatan
Roatan is located just off the coast of Honduras and is now featured on many Western Caribbean itineraries. Roatan also offers some of the best diving and snorkeling in the world at spots such as Mary's Place, The Valley of the Kings and Parrot Tree. From these spots you can see sponges, black coral sea horses and countless varieties of tropical fish. The laid back island atmosphere and world class reefs will have you looking to come back to Roatan to stay a few days to take it all in.

3. Curacao Underwater Marine Park
With 12 miles of tropical fish, beautiful reefs and even sunken ships be sure to book a snorkel excursion to the park when you stop in Curacao. Underwater trails and signs even help snorkelers identify what they are seeing along the way. Be sure to wear a snorkel vest
on these excursions as the water can be deep and surf can get rough down in Curacao with the trade winds.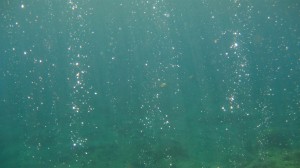 2. Champagne Reef
Dominica may be most known for its wonderful inland waterfalls and lush rainforest but it also boast another unique snorkel experience at Champagne Reef. The Reef is located just off the rocky beach and is known for the volcanic gases that escape from the ocean floor giving you the feeling of swimming in a glass of champagne. The reef itself isn't bad either and many species of animals can be seen swimming around including seahorses, eels and even an occasional squid.

1. St John
Unspoiled beauty sums up this national park located in the U.S. Virgin Islands. St John is the type of place post cards are made from and that helps earn it the award for best snorkeling in the Caribbean. With no strong currents and shallow bays full of tropical fish, St John is the perfect snorkel destination for families. Cruise ships don't stop at St John but they do dock at neighboring St Thomas where many excursions are offered to St John where you can relax and spend the day snorkeling Honeymoon, Hawkness, or Trunk Bay.