A couple of years ago my wife and I decided to take our first Mediterranean cruise on the Royal Caribbean Navigator of the Seas. This was also our first cruise on one of the Royal Caribbean ships and since then it has become one of our favorite cruise lines.
Because we both love to read cruise reviews before our trip including countless Navigator of the Seas reviews we thought we would share our thoughts as well on the ship.

Overall
Overall the Navigator of the Seas ranks as our second (out of ten) favorite ship that we have sailed on just behind the Celebrity Millennium. Great service, good food and a beautiful ship all helped the Navigator rank so high in our opinion.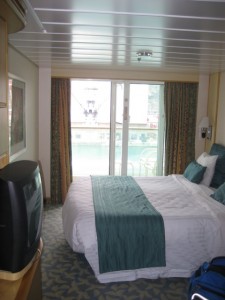 Cabins
We went with a balcony cabin because once you cruise with a balcony its hard to choose anything else. We love to order room service for breakfast and eat out on the balcony as the ship pulls into port. Royal Caribbean balcony cabins are technically smaller than those on Carnival but having sailed in both we didn't notice the difference. In fact we like the Navigator of the Seas cabin better because it had a sliding glass door instead of the door and window setup of the carnival ships. This left us with a better view and more room on the balcony. The doors on the Carnival balconies swing out onto the deck which is a real pain if someone is sitting out there. The Carnival door will also not stay open like the sliding door on the Navigator.

Itinerary
We chose a 5 day Mediterranean cruise out of Barcelona with stops in Cannes, Florence and Rome. While there are certainly better cruises with longer itineraries, this was a great value and hard to pass up. We paid less than $600 a person for our balcony. With a few extra days added to our trip in Barcelona we had a great time in Europe for a reasonable price.
At the time of this review, the Navigator of the Seas is now sailing out of the Rome port of Civitavecchia and starting in November she will be cruising from Fort Lauderdale and then from New Orleans.
Food
Having cruised mostly on Carnival before taking the Royal Caribbean Navigator we had heard many negative comments about the food on Royal Caribbean ships. Based on the reviews we were expecting the worst and hoping for the best. While it may not have been the best (that award still goes to Celebrity) it was certainly very good. Maybe Royal Caribbean ups their game for European cruises or maybe we were just glad to have a change from the usual Carnival menu. Whatever it was it was a pleasant surprise.
Typically we do a specialty dining room at least once on our cruises but we ate in the main dining room every night on this trip because the food was so good. The service was also exceptional. Both the head waiter and assistant head waiter stopped to talk to us every night to see about our food and ask us about our day.
Because we were in port almost every day we didn't get a chance to try the lunch buffet but the breakfast buffet was probably the best we have had. It took me a month after we got home to kick my french toast and smoked salmon breakfast routine.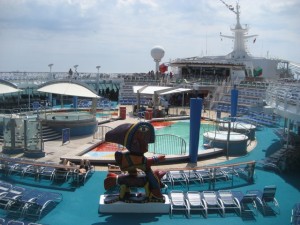 Ship Highlights
The Pools – The pools on the Navigator of the Seas were probably the best we have seen on any of the ships we have sailed. Unfortunately we cruised during a cooler month so we didn't get a chance to take a dip.  The main pool is pictured here and the Solarium pool and spa pictures are in the photos below.
Soccer hour – I'm a big soccer fan and love to play any chance I get. Needless to say up until the Navigator I had never seen it played onboard any cruise ship. I had only seen basketball, volleyball and even tennis played on other lines. On the Navigator an hour a day was set aside on the sports court for a pick up soccer game. I was a little afraid this was a European option only but I have checked RCL Caribbean itineraries and it is listed there as well. Big +1 for Royal Caribbean on this one. If soccer isn't your thing the sports deck also has mini golf, a rock wall and an inline skating track.
The Royal Promenade –  This is the area that sets apart Royal Caribbean apart from other cruise lines and I'm not sure why others aren't copying it. From parades, to sandwich shops, to British pubs this is a great place to come and hang out day or night.
More Navigator of the Seas Pictures