Last week we decided to take a last minute cruise…as in we booked two days before it sailed. I would have liked to take a larger ship but due to the start of college football season we had to be back in time to watch our beloved Auburn Tigers play. This left us with only one option. The Royal Caribbean Monarch of the Seas 4 night cruise to the Bahamas. I have always avoided this class of ships in the past but I figured the price was right and any cruise would be a good cruise.
This was also the first cruise with our newborn who turned six months just ten days before we booked (Note that infants must be six months old to book a cruise on Royal Caribbean). In other words this was going to be a new experience for us and we didn't anticipate being able to do many of the things we have grown accustomed to such as late night comedians and the cruise nightlife.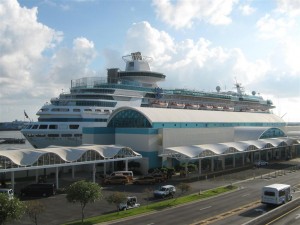 Cruising from Port Canaveral
After 15 cruises this is probably our port of choice. From the time we got out of our car to the time we were on the ship was less than 30 minutes. We do typically prefer to board the cruise later to avoid the crowds though. This was also the fastest we have ever disembarked upon returning to port. We lucked out with #3 luggage tags which meant we were one of the first groups called and because we had a stroller we were directed to the elevator which bypassed the longer customs line.

Monarch of the Seas Cruise Ship
At twenty years old this certainly isn't one of the newest ships around. While Carnival has done a good job refurbishing their older ships the Monarch just seems dated. They have added a rock wall to the back of the ship but I never saw anyone using it. The casino is small as is the Windjammer making it tough to navigate and find tables at lunch time. I do however like the deck 7 outdoor promenade which circles the entire ship and makes a great place to walk off some extra calories.
Monarch of the Seas Crew
By far the highlight of this ship is the crew. It probably didn't hurt that we had a baby with us because every crew member we passed stopped to play with our little one. Even the officers would say hello as they passed you in the halls which has not always been the case. Room Steward did a great job and made sure to speak to us every day. He would also open our door for us every time he saw us coming down the hall. That was a nice touch that I have not seen before. The waiters in the Windjammer and Pizza area were also the nicest we have seen on any of our cruises.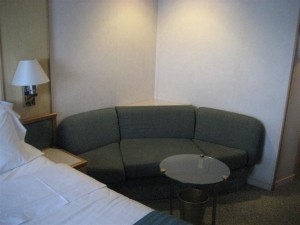 Monarch of the Seas Cabin 9504
It's my understanding many of the cabins on the Monarch are ultra tiny and some of the smallest around. Based on a little research we learned that oceanview cabins booked on deck 9 or higher are bigger and include a safe. We booked a deck 9 partially obstructed view and had no problems with our cabin at all. The obstructed view just meant we could see the lifeboats and crew walkway below us and the room was every bit as large as most of the other ships we have been on. There was even a nice sitting area in one corner of the room. The bathroom was typically small and as many reviews note comes only with a shower curtain instead of shower doors. I never had a problem with the curtain or the shower. There was even plenty of room for our six month old to sit down in the shower while we used the removable sprayer to bath him.
Monarch of the Seas Food
Because this was our first cruise with the little one and because we booked at the last minute we did not have a table assigned to us which meant we would have to do My Time Dining and wait in line each night. Instead of fighting the lines as well as subjecting our six month old to an hour plus dinner we decided to eat only at the Windjammer buffet for this cruise. Dinners weren't terrible but the food on the Monarch was the worst food we have had on 15 cruises. Food that was suppose to be hot was cold such as the pancakes which were almost inedible. Then one night I tried a chilled melon soup which I know from past cruises is delicious. I almost spit it back out. It was room temp at best. After eating at the Windjammer for four days I'm no longer skeptical of all of the food poisoning claims I read on the cruise message boards.
We also ate a couple of times at Sorrento's pizza which was pretty bad as well. It looks like most of the ship thought that too. The first day there was a line at lunch for pizza and that was the last time I saw more than two people at the pizza counter at a time.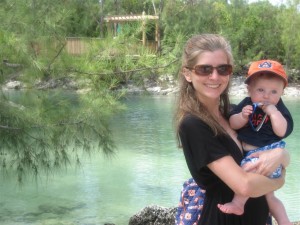 Cruising to the Bahamas
This four day cruise stopped at Nassau and CocoCay Island which is one of Royal Caribbeans private islands. This cruise was also the week after hurricane Irene and RCL did a phenomenal job of getting CocoCay ready for us. There were still signs of the hurricane and cleanup wasn't complete but considering only a few days had passed this was a five star effort by RCL and they should be commended. As most private islands CocoCay was a great relaxing spot to spend the day. For a little more seclusion keep walking past the kids CocoCay water park area to barefoot beach. There looked to be a decent snorkel area as well and we even saw a school of trumpet fish swim by in the shallow water but we left our snorkel gear at home for this trip. Another tip for CocoCay that we just plumb forgot to do is take a few boxes of cereal from the ship as a snack. They do serve lunch on the island but it isn't really close to barefoot beach and it wasn't very good either. Water would be another good thing to take as the closest water to where we were was a $4.50 bottle of Evian.
We had been to Nassau several times before and it may not be the nicest cruise destination but we still have fun every time we go. Hurricane Irene had torn up the straw market but in true islander fashion they had set up booths by the water so the cruiser wouldn't miss out on haggling for fake purses and straw hats. Since we had a stroller and didn't want to take a cab without a car seat we choice to do a walking tour of Nassau this time around. We walked up to the Queens Staircase and Fort Fincastle where we got a few good pictures before heading back down to pick up a few souvenirs. If you are cruising in late August be aware the weather in Nassau was about 95 degrees and we didn't last long outside with the little one. Next time around in Nassau I think I would like to try the day pass at the British Colonial Hilton that you can see from the ships.
Overall Experience
Overall we had a great time with our baby and it was good to get a feel for what its like cruising with a newborn without breaking the bank on a larger cruise but with that being said… I would not choose to sail on the Royal Caribbean Sovereign class of ships again. No balconies, poor food and not a lot of extra onboard entertainment for small children are big reasons for this decision.
As someone who has sailed multiple times on both Carnival and Royal Caribbean and prefers RCL, I believe these ships are the reason many Carnival fans say Royal Caribbean isn't as good as Carnival. In fact, if I had sailed the Monarch first I probably would have never gone back to RCL. Royal Caribbean would be better served selling these ships or moving them to another sister cruise line.
Nassau and CocoCay Pictures can be found in the Ports of Call Pictures page