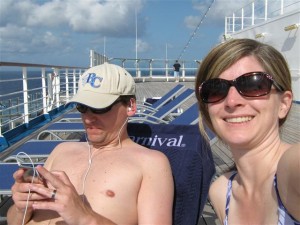 Grab a lounger, your ipod and a few of these cruise songs and you are ready for a perfect day at sea or a relaxing day at the beach. Some of my best cruise memories are just lying under the sun watching the waves with a great song playing through my earphones.
Ive been meaning to put together a cruise mix post for a while now and I'm sure I will be adding to this list quite often as I'm sure there are some hidden gems I haven't thought of. For now I'm just going to break the list down between albums and songs. As it grows I may try to break it down into genre like cruise rock songs, country cruise songs, rap cruise songs… you get the point.
Feel free to suggest some of your favorite cruise songs in the section below.
Cruise Albums
Jimmy Buffett – Songs you Know by Heart

Jack Johnson – In Between Dreams

Bob Marley – Legend
Cruise Songs
Soak up the Sun – Cheryl Crow

Upside Down – Jack Johnson

Kokomo – The Beach Boys

Take Me Home, Country Roads – Toots and the Maytals

Mexico – James Taylor

Hot Hot Hot – Buster Poindexter

I Can See Clearly Now – Jimmy Cliff

Into the Mystic – Van Morrison

Good Riddance – Green Day

Drunken Sailor – Blaggards

Lust for Life – Iggy Pop

Vacation – Go-Go's

Islands in the Sun – Weezer

Memories – Weezer

Walking on Sunshine – Katrina & the Waves

Just Like Paradise – David Lee Roth

Caribbean Blue – Enya

These Are Days – 10,000 Maniacs

The Boys of Summer – The Ataris

Where the Boat Leaves From – Zac Brown Band

Porcelain – Moby

Sweet Tides – Thievery Corporation