If you are looking for a great family summer vacation let me suggest something you probably haven't thought about. Do a land/cruise combo to Washington D.C. and Baltimore. Its perfect! You have the history and patriotism of Washington D.C. and the relaxing fun of a 7 day Bahamas cruise.
Start in D.C.
I suggest starting in Washington so the kids have a cruise to look forward to after all the museums and monuments are looked at. Every time I am in Washington D.C. I see kids having mental breakdowns on the National Mall. The thought of a cruise at the end of the week might help calm them down a bit.
That's not to say D.C. is boring to all kids or that there isn't plenty of kid stuff to do in D.C. In fact with places such as the Spy Museum, National Zoo and the Air & Space Museum they are going to love many of the places. Just take your time and don't try and see everything in a day. Did I mention many of these things are free including the Zoo. That should bring a smile to your face.
Take the Train
If you are flying in for this trip, take the Amtrak from D.C. to Baltimore. Its only about a 45 min trip and can cost as low as about $30 ea. If you are like me and live in a part of the country that doesn't have train service its a neat little side adventure for the kids.
Cruises out of Baltimore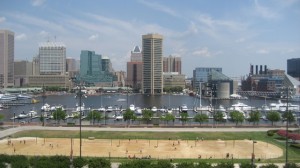 Both Royal Caribbean and Carnival have ships that sail out of Baltimore but for a family cruise I suggest you stick with the Carnival Pride on this trip. The RCL ship is older and not one of their better ships. With Carnival the kids can stay in Camp Carnival with cruisers their own age. The Carnival cruise has 7 day sailings to islands in the Bahamas including Nassau and Freeport usually for under $1,000 ea.