My wife and I have always talked about going on a Disney cruise because well… we love cruising and we love Disney (no brainer, right?). The prices which can in some cases be twice as much as comparable cruises however have kept us from pulling the trigger. That and the fact we never had kids to take along for the enjoyment. Well with the addition of two new Disney ships prices have started to come down. There has also been the addition of an amazing one year old son in our lives so now seemed like the perfect time to give Disney a try.
We chose the Disney Dream because Port Canaveral was within driving distance (we still haven't flown with the little guy) and rates dropped to about $700 a person. That's still a bit high for a four day cruise in my opinion no matter how much Disney magic they sprinkle around but it was still low enough to give it a try. We also brought some extra family members (Mom and Brother) along for this trip to help out with the little guy.

THE AWESOME
Nemo's Reef
If our son could speak in complete sentences he would quickly tell you that Nemo's Reef is the most awesome cruise invention ever. But he's only 14 months old and he has a serious thing for splash zones so take that for what it's worth. I might not say its the best thing ever for a cruise ship but for parents of a non potty trained child it was pretty awesome. It's no fun being on a ship where your child can't play in the water so Disney added a great little splash zone area for kids 8 and under. I will say I think they should cut back the high end of the age requirement a bit. The older kids get a little rowdy and run around as expected. This means you have to keep a pretty close eye on little ones lest they get run over. Not once did I see a Disney staff person ask the older kids to stop running. Here is a video of our little guy enjoying the time of his life.

Midship Detective Agency
If it wasn't already cool enough that paintings throughout the ship came to life as you walked by, a detective game was incorporated into several of them. Once you had your map and a secret decoder card you could set off across the ship gathering clues to solve one of two mysteries available. This is a pretty neat thing for all ages and a great way to spend some time on sea days. Though keep in mind that sea days are by far the most popular time for the crime solving. Just keep your card and map with you all the time and do one or two paintings throughout each day. That way the fun last all trip and you aren't fighting the crowds.

Castaway Cay
So far every private island we have visited has been awesome and Castaway was no exception. I was a little worried about crowds from pictures I had seen before our trip and even though it was quite crowded it was still the highlight of the trip. One thing that makes Castaway standout from places like CocoCay and Princess Cays (places we have also visited) is that the Castaway has an actual dock. The others require tenders onto the island which takes away time you could be enjoying the island.
For our day on Castaway we slept in late as planned to avoid the initial rush to get off the ship and then after a thankfully non-crowded breakfast buffet (the only time it was not over-crowded) we headed to the family beach. While it was crowded there was still an abundance of chairs, loungers and shade to be had throughout the beach and for the most part we had a small little beach area to ourselves… well until the lady plopped her chair in the water about a foot away from us. Aggravating but not enough to ruin a great day on Castaway.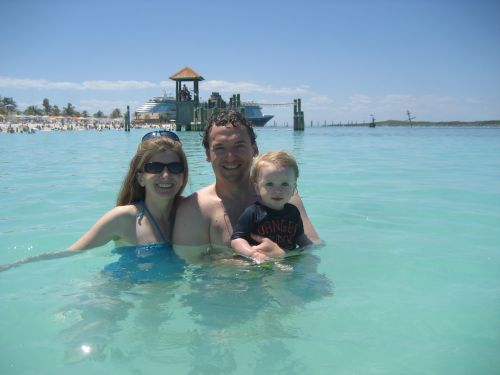 After some time on the beach with the little guy (he also loves the beach), my brother and I took off for the snorkel area. This was actually an unexpected surprise as the area is huge and Disney has set up sunken boats, submarines, cannons and other various things throughout the area. We even saw a huge stingray which was the largest i've seen snorkeling outside Stingray City in Grand Cayman. It's not the best snorkeling in the Caribbean but its pretty good considering its free if you bring your own gear. Disney even provides/requires a blow up life vest for free. Neither of us used fins but if you have them bring them. Like I said the area is large and deep and I was longing for my fins on the long swim back to shore.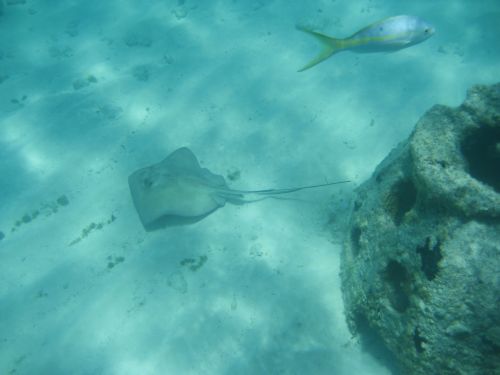 After snorkeling it was time to eat. A lot of people rave about the food on castaway but it was just ok. Basically the exact same bbq type food I have had on every private island. Nothing to write home about. After lunch it was time for something the whole family had been looking forward to – taking a bicycle tour around the island. For only $6 you can rent a bike and take about a three mile trail around the island with a stop at an observation tower which gives you a great photo op of the ship off in the distance. They even had bikes with baby seats and the little guy loved riding around… well until he fell asleep in his chair. This was the first time we have rented bikes on an island and it was a fun family outing that I would recommend to everyone. Well worth a small fee. The rate says per hour but they aren't checking and its doubtful you will be out much more than an hour anyway.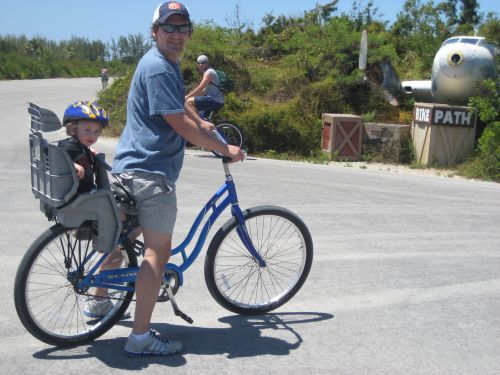 Click Here for More Castaway Cay Pictures
Shipboard Photos
This is the last thing I would ever expect to add to the awesome category of a cruise review but Disney has this down to a science and the rest of the cruise lines should take note. Before you even board the ship you are assigned a folder such as Minnie 19 then every time a ship photographer takes your picture they scan your cruise ID and guess what… those pictures end up in your own personal folder (as seen in the pic below). No more fighting crowds of cruisers searching a gazillion photos for your pics. They all end up in your own personal photo book (Awesome!).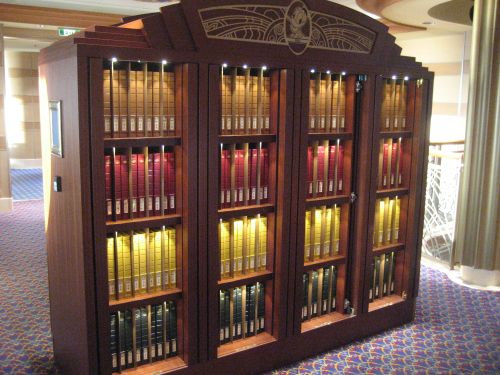 This is after all a Disney cruise so picture ops with Micky, Donald, Goofy, Pluto and the gang are a plenty. What is awesome is that Disney doesn't seem to mind cruisers taking their own photos right along with the staff. I haven't seen that on other lines… though I've never felt the need to grab a photo of me and the Mrs with a fake ship bow in the background. As for the lines for pictures… not that bad at all. After seeing the way cruisers react to formal night pictures on Carnival I figured a picture with Mickey might be a good hour wait. Not the case at all. Pleasantly surprised.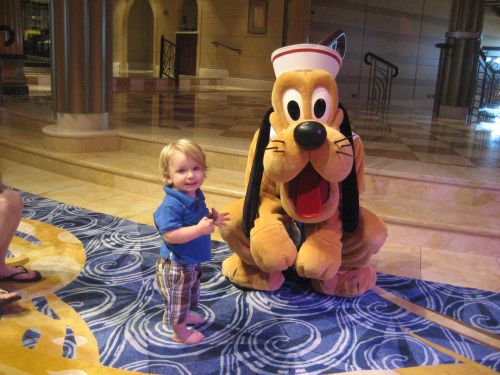 THE GOOD
Cabins
Since our honeymoon cruise back in 2002 we have been spoiled by balcony cabins. For our cruise on the Dream we decided to try out the inside magic porthole cabins. We did this for two reasons. First, it saved us a few hundred dollars on what I already considered a pricey cruise and secondly it was the only available connecting cabin which we wanted to be able to connect with my Mom and brother. The Dream is also only a 4 night cruise so we figured we wouldn't miss a balcony too much (we did) and the magic porthole was actually something I had looked forward to seeing since Disney first announced the new technology.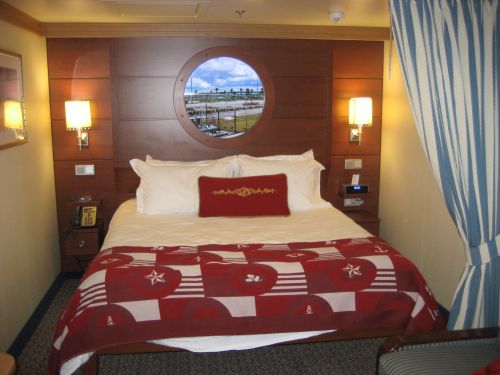 The porthole was pretty cool as we had a view out the back of the ship. If you aren't familiar with the magic portholes they are basically flat screen TV's placed behind a porthole sized cutout behind your cabin bed. These TV's show live shots outside the cruise ship so you don't feel so claustrophobic in the inside room. Various Disney and Pixar characters also make appearances on screen which is pretty neat but unfortunately there is no sound. One night we could even see the fireworks from another Disney ship sailing close by.
Basically, besides suites, all cruise cabins are essentially the same and we have never had a problem with rooms being too small and our cabin on the Dream was no exception. The room itself was plenty big enough for a standard inside cabin but we felt it could have used a bit more storage space like additional shelving in the closet. Booking the standard inside meant that we gave up the split bathroom that are in many cabins on the Dream. Since it was just me my wife and our one year old this wasn't a big deal. In fact this was probably the biggest and nicest bathroom we have ever cruised with. It was certainly the first time we had a full tub on one of our cruises which made it a lot easier to bathe our little one.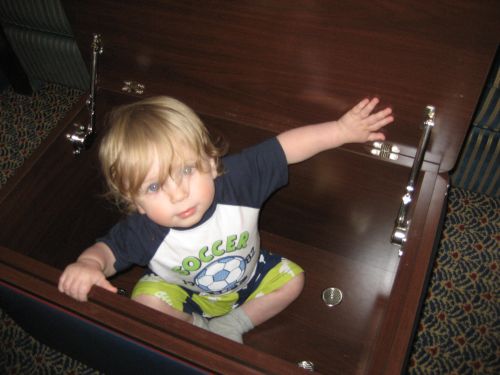 Other nice Disney touches in the cabin included safety drawers that wouldn't slam shut to protect the fingers of curious little ones (we have one of those) and a small table that opened up for additional storage. Flat screen TV's were in every cabin and featured all the Disney films you could ever want to watch for free plus a few current on demand movies all at no additional cost. We watched the new Mission Impossible, Toy Story 3 and Sherlock Holmes 2 on our trip. For you hidden Mickey fans there were also several Mickey's throughout the cabin. Another item of note for those cruising with children is that the fridge comes empty so you can store any formula or milk in there. We grabbed a couple extra milks at breakfast each morning to keep in the fridge which came in handy later at night.
Food
The food on the Dream was some of the best we have experienced cruising and at no time did we feel the need to pay for the additional charge places like Remy or Palo. The only exception for me was with the soups. Typically the soup is my favorite part of the meal but the Disney soups weren't really that good. The appetizers, salads and entree's however were fantastic. Meats were actually tender and cooked to order (medium rare) and seafood tasted fresh. I also have to tip my hat to the waiter whose recommendations were spot on every night.
We were pretty excited about trying out the dining rotation offered on Disney ships but in the end were kind of meh! about the whole thing. The one venue that always stands out is the Animators Palate and I had really been looking forward to it. I think my expectations were too high because in the end I was most disappointed with this place. I think I had confused it with the venues on the Magic and the Fantasy which are apparently different. The Animators Palate on the Dream features characters from Finding Nemo who interact with a few guest during dinner. It was just OK and to be honest I would probably skip it the next time.
The buffet did come with some pretty awesome shellfish which is something I have never seen on any of my previous cruises…Yummy!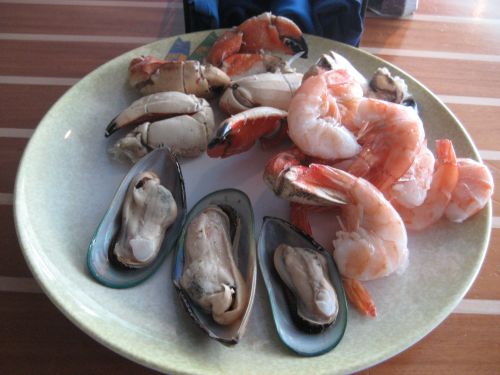 THE BAD

Way to Crowded
We have sailed on big ships before such as the Navigator of the Seas and the Caribbean Princess but this is the first time we really noticed the crowds (and we were sailing in the off season). Even when the ship was in Nassau the pool deck was full by 8am. Getting food at the buffet was also a challenge. There was always a line and tables were hard to find. Food was so hard to get after coming back from Castaway that we waited over ten minutes on hold just to speak to room service. The problem is that the buffet closes around 2 and the other pool side venue for burgers, pizza and dogs is crammed into a corner of the deck. This area was slammed at 4 and most of the venues were running out of food.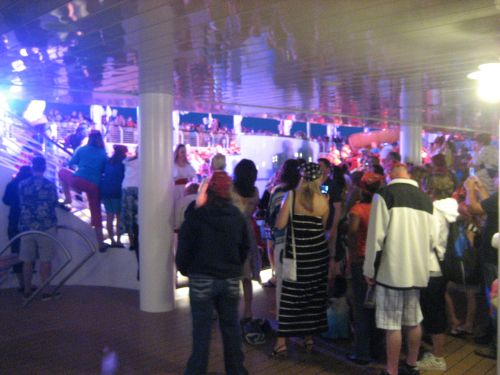 As for the entertainment on deck such as the pirate party… better get there early if you want to see anything at all. We were really only there for the fireworks but it was a little disappointing not to even be able to see the big screen from anywhere on the deck above the pool due to the crowds.
Adults Only Area
This is a common complaint and something that I believe has been fixed on the new Fantasy. The adult area is in a horrible place mid-ship between non-adult areas. One group of elevators even makes it where you have no choice but to walk thru this area to get where you are going. This wasn't a big deal for us because we weren't the ones trying to relax in peace away from children but I can certainly see how some families can wonder into this area without realizing they shouldn't be there.
Too Many Segregated Areas
Speaking of the adults only area…I believe this is part of what leads to all the crowds congregated in the same spot. The Dream seems to have most of the ship sectioned off for certain groups. One floor is dedicated mostly to the children's daycare area while another floor is dedicated to the nightclubs for adults only. This left few areas such as the pool, sports deck and theaters available for family events.
The Price
You just can't ignore the issue of price with Disney cruise lines. With rates that can sometimes be twice as much as longer 7 night cruises its a real negative. The fact that the Dream only does a four night itinerary to the Bahamas that is no different than the older Carnival and RCL ships sail for about $300 doesn't help either. As I mentioned at the start of this review the addition of two new ships has helped bring down the cost some and it has even given Disney the opportunity to sail longer 7 night routes that make it a little more feasible to pay the higher rate.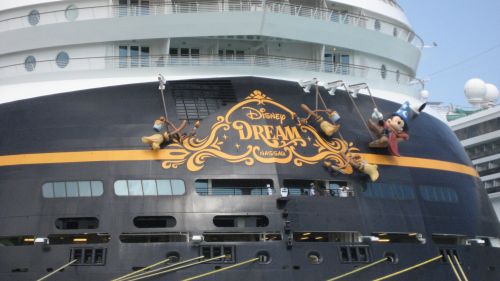 Click Here for more Disney Dream Pictures
OVERALL
Maybe our hopes were too high and we expected too much from Disney but in the end a Disney cruise was really no better than a Royal Caribbean cruise or even Gasp! a Carnival cruise. Now that still makes it a great vacation, it's just not in our opinion worth the large price difference to cruise with Disney. Is it worth a premium to cruise with the characters? Possibly! A 10-20% premium could be justified for the experience your little one can have with the various characters but anything over that is pushing it. We enjoyed quite a few of these priceless memories with our little one and we are glad with our decision to cruise Disney. It just wasn't enough to make Disney our cruise line of choice.
I expected to be blown away by the Disney service but in truth it was nothing better than any other cruise and it still wasn't even close to the service we received on Celebrity. I would even rank our stateroom attendant as one of our least favorites of all time. It may have started off on the wrong foot when the little guy went after some cookie crumbs under the bed left over from a previous cruise. Typically a crumb here or there wouldn't be a big deal to us but this is Disney quality on the line and for a cruise that caters to smaller travelers you have to take a bit more care. The most he spoke to us on the entire trip was to knock on our door on debarkation day to tell us we had to leave. Note: our time to leave the cabin was 8am (given to us by the ship) and it was 7:55 and we had bags in hand heading out the door to breakfast.
Like I said though… in the end it's still a cruise and we had a good time. I would even recommend everyone try out Disney at least once. For some of you guys this will be the perfect cruise line. It just wasn't for us.