I'm a little late getting around to this post considering our six month old is now 14 months old and getting ready to go on his second cruise. Maybe by the time he is 2 I'll have the Cruising with a one year old post ready…Hey better late than never right.
Anyway, I thought this would be a helpful topic for those thinking about cruising with a six month old or any child under a year really. First thing to note is most cruise lines require your child to be six months old before they cruise. Disney is the lone exception and they allow your children 3 months and older to cruise. We were pretty excited that our little guy was finally turning 6 months old so that we could see how he liked Mom and Dad's favorite vacation get away.
Since this was going to be our first cruise with a baby we decided to book a short 3 night cruise just in case he hated it. Due to a last minute freeing up of our schedule we also booked our trip 48 hrs before. This basically left us with a trip on the Royal Caribbean Monarch of the Seas. You can read our review here.
Like I said, our baby loves water of all kinds and loves going to the beach. Coco Cay was no exception. Luckily we were able to find a couple of loungers in the shade. It's important to not keep little ones out in the sun for too long. We also brought along a portable fan like This One
which was a life saver and will be used again this summer.
While on the private island we also brought along a lightweight blanket for napping as well as bottles, formula, a couple of toys, hat, sunglasses, swim diapers and sun screen that was safe for a six month old. Better safe than sorry on the sun protection so you can never pack too much to help protect your little one against the sun. All of the stuff we brought fit into a diaper bag so it wasn't too hard to carry around.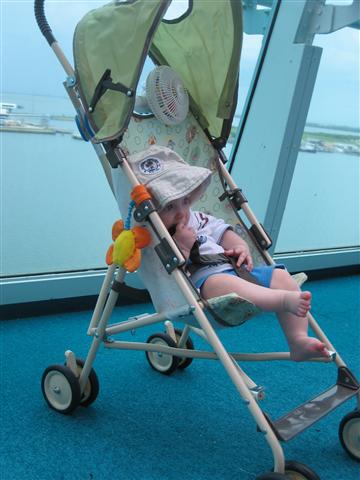 Another item we picked up right before our trip was a cheap $12 stroller from Wal-Mart. It did the trick for us for the most part but after wheeling it around Coco Cay and Nassau it was pretty much trashed. But like I said it was only $12 and it worked great on the ship. If you are looking for something a little sturdier we have since bought a $50 umbrella stroller at Babies R Us that we plan to try out this go around.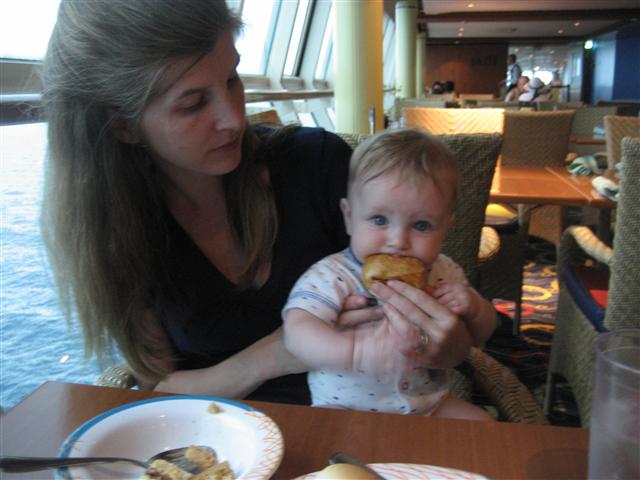 We did however have one scary instance on our cruise. We had grabbed a couple of rolls for our son to eat (which he loved) when one of the wait staff came over and asked if we knew that the roll he was eating contained pesto (that's made with pine nuts FYI). Pine nuts are one of the worst nut allergies. Luckily we don't have a family history of nut allergies and our little guy was fine.
On a positive note the staff on the ship when over and beyond taking care of us the entire cruise. They loved having a little baby on board and many commented how it reminded them of their little ones at home. The guy who told us about the pine nuts even went and made an entire plate of food for our son with plain rolls so that we didn't have to get up again. He didn't have to do that and it was much appreciated.
While we are on the topic of food I should also mention that we chose to eat in the buffet every night just because we thought it would be easier on everyone. A six month old isn't quite ready to sit through a dinner in the main dining room. The buffet is just a better way to do things we felt.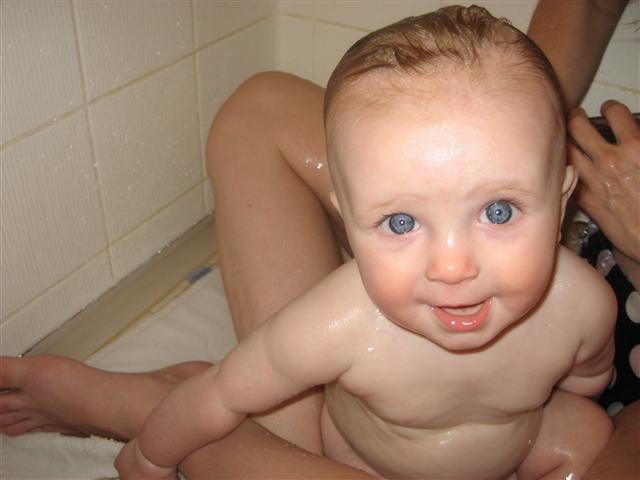 One thing to keep in mind when cruising with infants is that most cabins do not come with tubs. As you can see from the picture, we were able to sit in the shower with him for bath time. The showers are small and it was a little cramped but it seemed to do the trick. You also bring along an Inflatable Duck Tub
if you wanted. We have one of these at home that we used for a pool last summer and it would work fine on the cruise as well. These work really good for balcony cabins where you would have a bit more room to use it on the balcony.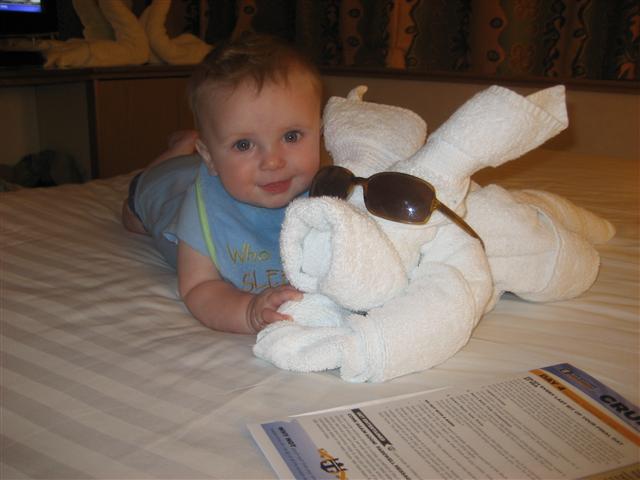 It ended up being a great cruise and our 6 month old loved it. He loved the beach, loved towel animals and loved strolling around the top decks with the wind in his hair. In the end we were very also happy to have only booked the 3 night cruise since it was only the three of us. We felt on a couple of occasions that we really could have used another set of hands but it was still a great trip. But my number one suggestion for those taking a cruise with a six month old is to take grandma along. Even with out grandma you will have a blast. Just be sure to bring a camera to capture all those priceless moments as your little one starts to discover the great big world outside.