When I think I Key West, I think of three things… Key lime pie, magical sunsets and the bridges connecting the keys. When you cruise to Key West you are only going to get to experience the pie. That's because A. You're not driving and B. you have to set sail before sunset. Sadly, most cruises don't even stay past lunch. My wife and I cruised to Key West on the Celebrity Millennium for our honeymoon and the ship left the Key West cruise terminal at 1pm. Most of the lunch spots didn't even open til 11. Luckily the port is pretty close to all the action and well within walking distance of Duval Street so we were able to catch a quick bite before heading back to the ship. That's why I say if you are planning your next cruise with Key West in mind… it may not be all its cracked up to be.
Don't get me wrong, it was a fun stop. Like I said many things were within walking distance. It just would have been nice to have more time there. If you do decide to cruise to Key West, Florida here are a few helpful tips to get the most out of your trip.
Mel Fisher Maritime Museum
Everyone will love the Mel Fisher Museum which is located in the heart of downtown Key West. The Museum gives visitors a chance to see real sunken treasure brought to shore and displayed for all to see. Tickets are only $12.50 for adults and the museum is open early every day making it perfect for cruisers.

Southern Most Point in the U.S.
Another must visit tourist attraction in Key West is the Southernmost Point in the continental United States marked by a concrete buoy. It's cheesy, a great photo spot, within walking distance ad best of all its free.
Ernest Hemmingway House
Also within walking distance and located near the southernmost point is the Ernest Hemmingway House and Museum. Tickets are the same as the Mel Fisher Museum but this stop may not be for everyone. It's doubtful kids will enjoy this museum or even younger folks…we skipped it when we were there. You can still see it from the outside and take a picture to say you were there.
Duval Street
Duval Street is the Key West version of Bourbon Street without the crackheads and smell of vomit. Sadly, you aren't going to get to experience the night life the street offers if you are in town on a cruise ship. It's still worth a stroll on your way to see other sites and you can at least grab an early lunch and a beer and listen to the locals talk about how crazy it gets for Key West Carnival.
Believe it or not Key West really isn't known for its beaches. Those who do venture to the beach head to either Smathers Beach or the Fort Zachary State Park Beach. Beached in Key West tend to be small and more rock and gravel than you might be looking for. In my opinion, Key West is a better cruise destination for strolling around town enjoying the breeze and seeing the sites.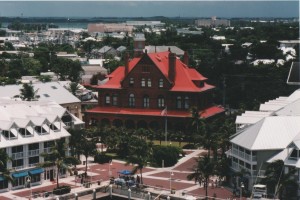 Most ships will dock within a couple of blocks of Duval Street in the heart of Old Town at either Mallory Square or the Truman Annex. There is an outside chance you could end up at the closed Naval base however. If this does happen trolleys will take you into town.
For our trip we were docked right in Old Town. The picture here was taken from the ship. We were able to walk to Duval Street, the Southernmost Point Buoy and Hemmingway's house with ease. In fact this has been one of the best walking ports we have been to throughout the Caribbean. There is really no need for any ship excursions in Key West.
All of the big names such as Carnival, Royal Caribbean, Disney, Norwegian, Holland America and Celebrity cruise to Key West. The Royal Caribbean Jewel of the Seas which cruises to Key West out of Tampa even stays til 6pm. You will still probably miss the sunset but at least you can enjoy lunch and even an early dinner
While you may be thinking exotic tropical vacation, don't forget you are still in Florida so your cell phones will work just like they do at home. That makes Key West a great place to check in with loved ones
Don't forget to pick up a Conch Republic souvenir while you are in town. In a brilliant marketing scheme Key West unofficially seceded from the U.S. in the early 80′s and declared themselves the Conch Republic