After more than ten cruises through the Caribbean one excursion stands out more than any other and that is cave tubing in Belize. Cave Tubing is the perfect combination of adventure, sightseeing and good old fashion fun. It starts with about an hour drive through the country to the rainforest where you will have an easy 30 minute trek through the woods to get to the river systems. Along the trail we saw leaf cutter ants and first of many fruit bats (the caves are full of them). The guides will always point out things of importance and give you a little history of Belize along the way.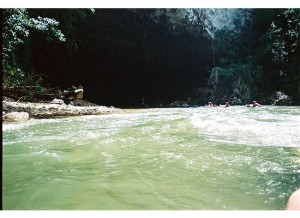 For our Belize cave tubing we chose to book our excursion outside of the cruise ship since it cost about half as much. Some cruise lines charge almost $100 for cave tubing (we paid $45). If you choose to book with the cruise line you are going to end up in a bus with 100 other people floating down the river at the same time. We had a van of 12 folks and were able to beat the cruise bus to the river and we were able to walk a short distance further to add a third cave to our trip (the cruise excursion got two). Don't worry about missing the ship. These guides do this all the time. They will get you back in plenty of time to knock down a couple of Bahama mama's before the ship leaves.
What will you need for Cave Tubing
Bathing Suit
Water Proof Camera
Water Shoes
Towel
Change of Clothes
Snacks (grab some cereal boxes on the ship)
Most cave tubing excursions provide water and include lunch but it doesn't hurt to bring snacks or even a bottle of water for your trip. You will be able to leave your bag in the van or bus while you are on the excursion but I would not recommend bringing valuables (I would give that same advice in the U.S.).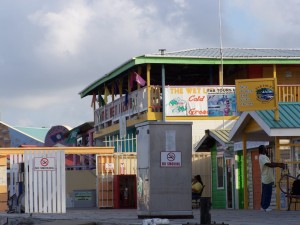 What to expect in Belize
The best advice I can give to anyone planning a cruise that stops in Belize is to book an excursion. Belize City is not the tropical paradise that you get at many of the other cruise ports. In fact, its very third world looking and many people come back hating Belize because they never venture past the area where the tender ships let you off.  The main attractions are a tourist trap shopping mall and the wet lizard bar pictured here. That's not to say Belize isn't a tropical paradise. It's actually one of the best dive spots in the world with the Blue Hole and Barrier Reef. Many of the dive resorts and tropical beauty of Belize will be found on the outlying islands or cays.
Due to the shallow water, your cruise ship will anchor just off the coast of Belize City. Be sure to wake up early enough to watch the zigzag pattern the ship takes to get to its anchor position. Belize has many tiny islands just off the coast and the ship passes many of them on the way in and out of Belize.
Once you have cleared customs local boats will tender you back and forth between the ship and the city all day. This process goes pretty quickly so don't panic if you have an early morning excursion. Your tour guides go though this process several times a week and know that not everyone is going to be right on time due to the tender ships. Be sure to have a camera handy for the tender ride as you can get some great cruise ship pictures as you are heading to and from Belize City.
Weather in Belize couldn't be better. Average highs are in the 80′s and average lows are in the 70′s year round. Be aware that the rainy season in Belize runs from June to November and rain can cause cancellations of the cave tubing excursions. If the water is too fast or too high excursions will be cancelled for safety reasons.
What other excursions can you do in Belize
If cave tubing isn't your thing there are plenty of other things to do in Belize. In fact there are so many things to do you will find yourself wanting to come back on your next cruise.
Mayan Ruins
Barrier Reef Snorkeling
Zip Lines
Private Island
Party Boat
Scuba Diving
Fishing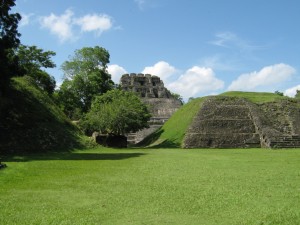 We did the Xunantunich ruins on our last trip to Belize and it was the first time on any of our Mayan Ruin excursions that we were able to walk to the top of one of the temples. That was a pretty neat experience. This was also one of the only excursions we have booked with the cruise line. These ruins are close to the Guatemalan border and it is an all day excursion with not much time to spare. In this case – better safe than sorry.
No matter whether you go cave tubing in Belize or whether you do any of the excursions listed above. Just do something in Belize or you will regret it.