I started my Beers of the Caribbean reviews last week with my review of Polar beer, which just happened to be the first picture I found. This week I bring you what had become my favorite beer in the Caribbean.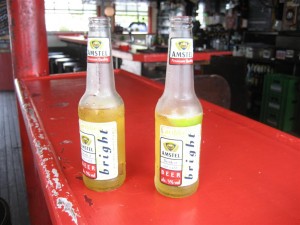 Amstel Bright not to be confused with Amstel Light is a great crisp refreshing beer found in the ABC islands, most notably in Aruba. The first time I tried Amstel Bright was on our honeymoon cruise and I look for it on every island (just in case its there). The the beer is typically served with a lime like a Corona.
Amstel Bright
Country of Origin – Netherlands/ABC Islands
Type – Think Corona… but better
My opinion – best in the Caribbean (9 out of 10)
It's hard to find a lot of info on Amstel Bright but it seems to have originated as a beer made with desalinated water in Curacao at the Amstel Brewery. That makes sense considering that islands such as Aruba and Curacao use desalination plants for their water. It also seems that brewery has since closed down and now all of the Amstel products are being brewed in the Netherlands and shipped back to the islands.
No matter where its brewed (I've had it pre and post Curacao brewery) this is a great refreshing beer for relaxing in the islands. Our favorite spot to enjoy the Brights are on the deck of The Paddock in Aruba where you can enjoy the sea breeze within steps of the cruise ships.