Whether its sitting on the balcony watching the stars or enjoying your morning coffee as you pull into port, repeat cruisers know that once you try a balcony cabin it is hard to imagine ever booking a different type of room.
However not every cruiser knows that you can make those wonderful balconies even bigger and better like the picture here taken onboard the Carnival Glory.
When booking a cruise with friends or family you may want to think about getting your cabins next to each other. Many cruise lines including Carnival and Royal Caribbean will allow you to open up the balcony dividers between cabins… providing both cabins agree.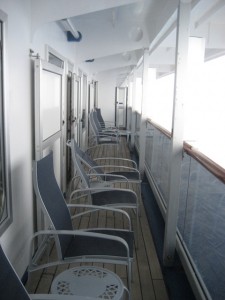 Try asking your cabin steward first. Many times he will have them unlocked for you within a couple of hours of your arrival. If this doesn't work head down to the pursers desk. Some ships require someone from each cabin to sign a form. Do this early – even if you have to wait in line a bit. Each ship class has dividers that work differently. Some require special clamps and once they run out of those they stop opening doors.